Decor Dulls An Otherwise Good Field Maneuvers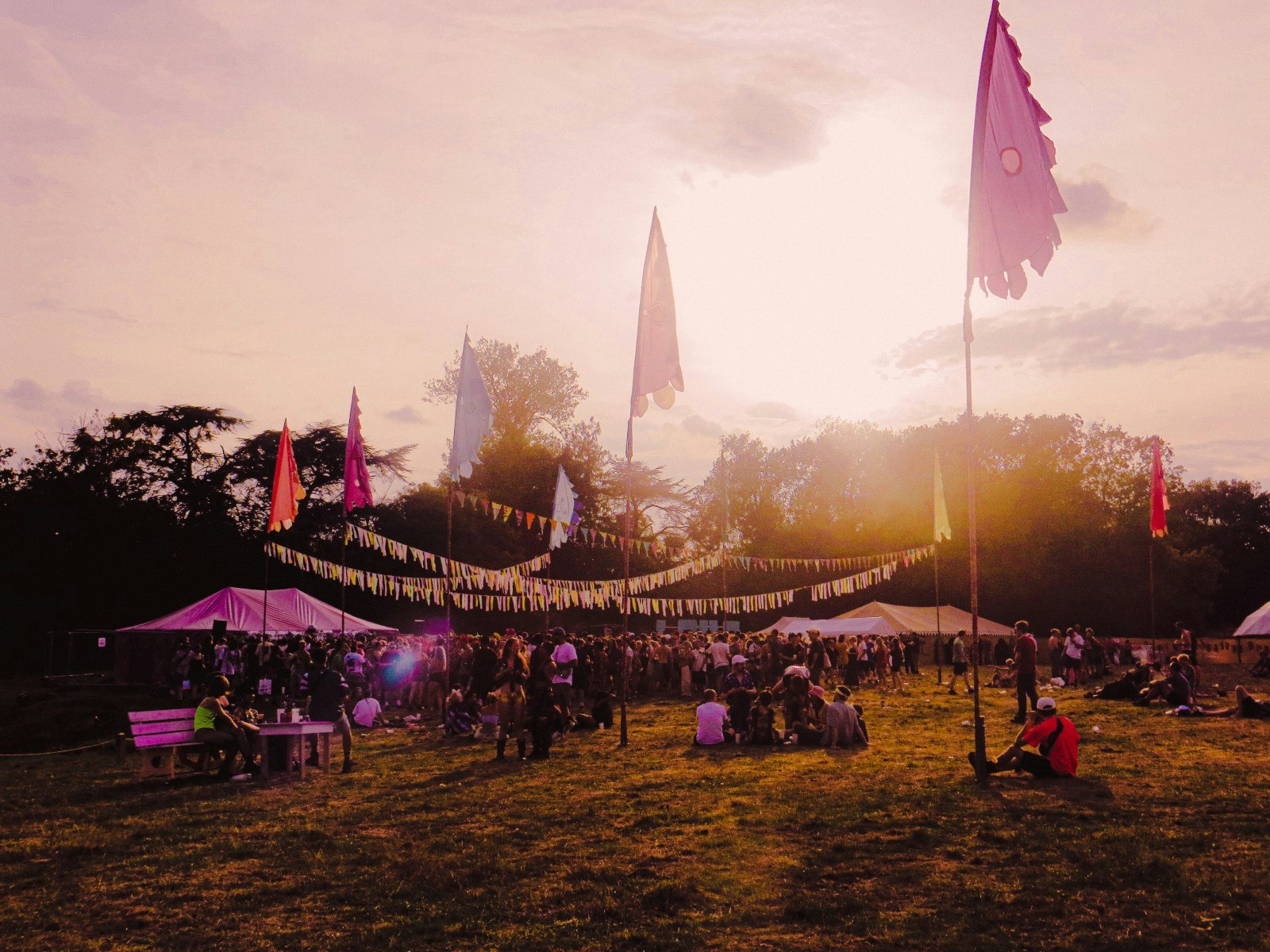 Heading to Field Maneuvers 2022, Emma Korantema Hanson holds the festival accountable for their careless 'no-frills aesthetic'.
Arriving at festival's secret second year location via their very own pre-arranged travel service, we were happy to be bang on time and essentially the first to enter a not-yet-open Field Maneuvers. However, there we remained for the next hour and a half, due to the campsite unfortunately not yet being cleared by the environmental health officer surveying it.
It being one of the hottest days of the summer, waiting in the sun was no easy feat but it was made manageable by the water and reassurance eventually provided by the team.
Once inside, my friend and I swiftly hazarded a guess that the hold up might have had something to do with the minefield of uncleaned sheep's poo we ended up living in close quarters with — we were grateful to see it being taken care of by the second day. We'd also been told that the build had started late, so it might have been that.
Once unpacked and pitched up, we set off to explore.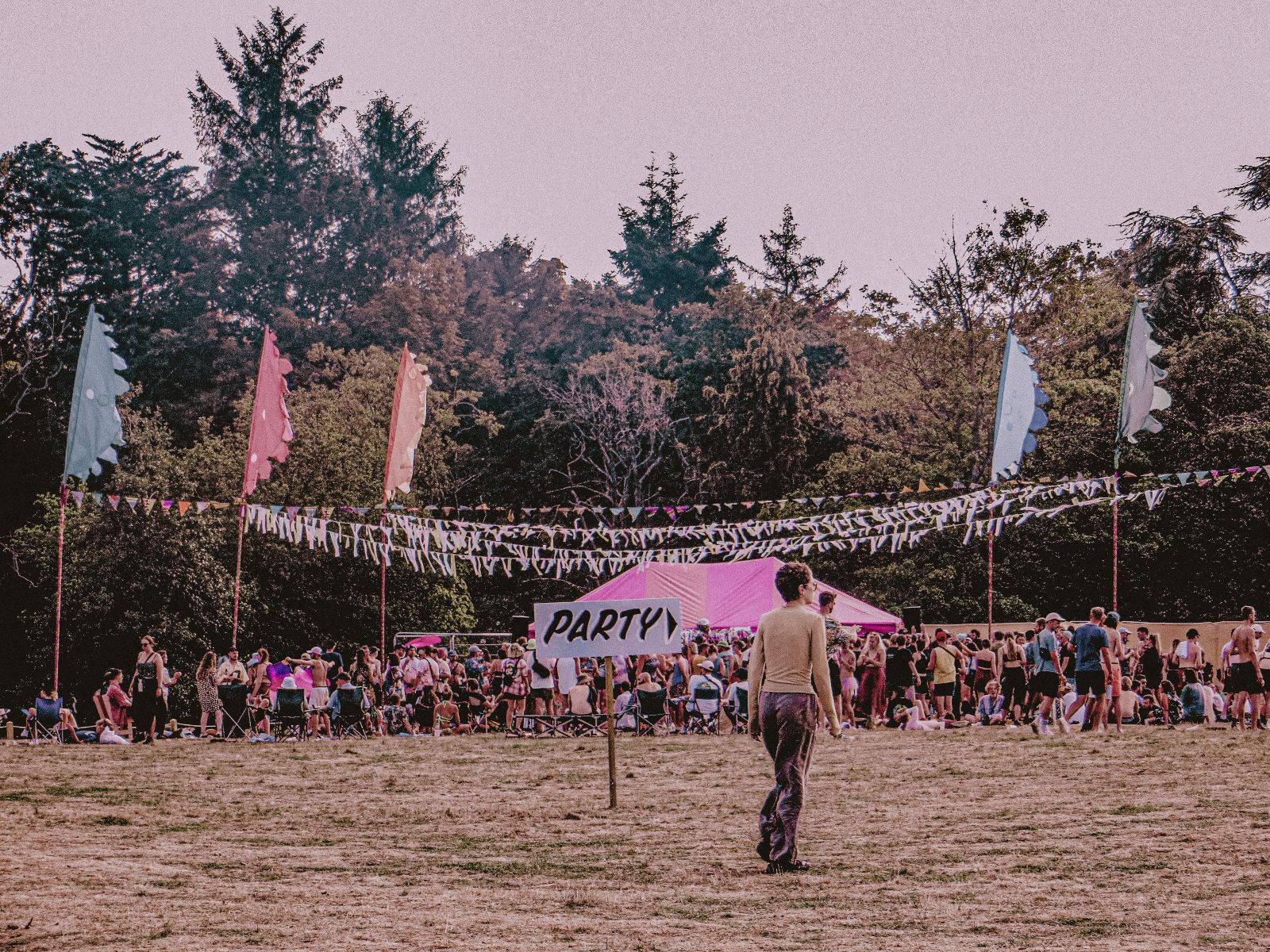 The very first tent that opened was named Laika (for reasons as yet unclear), taken over on lineup duties by Daytimers. There, we saw Shivum Sharma soundtrack the sunset outside with percussive edits, grime and other variations on sound that pretty much ticked all boxes I had turned up with.
Despite the superb selections, the tent's decor had me irreversibly distracted. Like much of the rest of the festival (bunting, pole covers, railings, dj booths), it was decorated floor to ceiling with Dutch / 'African' wax printed fabric (for reasons up until recently unclear), specifically kente print.
To experience a culturally sacred sartorial print (i.e. it is customarily worn — by Ghanaians and Ghanaian royalty on very special occasions) draped seemingly without second thought from the rafters of a tent in a field where I was yet to spot another Ghanaian or cause for cultural celebration, definitely killed some of my spirit.
As someone who is Ghanaian (surprise), there was simply no missing this — something that also went for quite a few others when I later shared my confusion at the kente-tente aesthetic on my personal instagram story. Responses varied between "oh no", and "funny, but not funny".
Eager to clarify the origins or purpose of the decision to decorate a festival where there were few to no black people in attendance with Dutch wax print — a historical remnant of colonialism reclaimed by many West Africans today, despite the conceptual theft of African fabrics by Dutch firms who now almost exclusively produce and profit from their prints — I asked no less than three different staff members over the course of multiple days (including once I'd left the festival) — for some clarification.
One at the time explained that it was "all the rage at clubs in the Netherlands at the moment, so they thought why not bring it over here", another on day two that the material added to the "no frills" aesthetic of the festival, and another took until I tagged the festival in my story five days later to explain the following:
"It's a very important subject and we would like to say how sorry we are for causing offence with the use of Ghanaian kente fabric for decorative purposes at FM this year. Thank you for bringing to our attention that the use of this fabric is inappropriate — we promise to learn from this situation and we won't be using any African fabrics again next year.

When FM first started, one of our decor team had a studio in Ridley Road Market and almost the entirety of our decor came from that market. Whether it was light fittings we made from straws, installations from plastic flowers, or the bunting fabric — it was all sourced from what was available on their doorstep. The variety of beautiful colourful African fabrics available at Ridley Road Market are undeniably beautiful and we have always tried to give any business and support to this local market that embodies Hackney's diversity.

A lot of our decor hasn't been used since 2019 and in all honesty, the bunting which has a mix of African fabric prints no longer feels appropriate (and in hindsight wasn't appropriate at the time either). In particular, the Ghanaian kente fabric in Laika was chosen in a hasty last minute decision this year by our decor team because of how beautiful it is, but the buck stops with us (the organisers) and we should have realised that this use of the fabric was inappropriate and a massive misstep in a wider context.

While we would describe FM as a "no frills rave", we certainly wouldn't describe the kente fabric in this way and were definitely not meaning to insult the fabric or the culture it comes from."
[It was brought to my attention after this piece was published that Field Maneuvers' director, Ele Beattie did in fact reply to my text message two days after the event but unfortunately this message was not successfully delivered.]
This was a response I definitely appreciated after longing many days for, and one that definitely got me thinking about the relationship between cultures and the things that are held dear within them.
While the fabrics used at the festival are essentially Dutch in origin, they are seen the world-over (and clearly by the festival organisers) as African. And capitalist bottom lines aside, they are.
While the fabric in the tent wasn't actual hand-woven kente, the print equivalent is an acceptable, readily available replacement option for Ghanaians when expense or importance of the occasion being marked are factored in. Not to mention, colonialism resulted in historically African fabrics no longer being able to be produced in West Africa due to the systematic dismantling of its infrastructural ability.
These are all things it isn't exactly my onus to explain in this review, but for the purposes of stating why African culture was haphazardly appropriated and absolutely misrepresented at Field Maneuvers, making me feel eerily uncomfortable in the process, it helps.
"A diverse line-up has always been a priority for us at FM and we continue to work to diversify our team behind the scenes. Clearly we still have a way to go, but in doing so we hope to bring in a greater cultural understanding to our event. Again, we are so sorry for any offence caused."
While this apology is appreciated, the timeline and circumstance through which it came was a shame.
Field Maneuvers have promised to stay away from using African fabrics ever again, and I hope my brief exposition (understood with a lens that also acknowledges techno and electronic music as genres that are historically Black in origin) can help them and wider western society to understand why that's a great idea.
However, in and amongst the kente confusion, the lineup did make for some enjoyable sonic moments.
Following the initial shock during Shivum's set, I got to hear fellow Dr-DJ, Goldtooth play for the first time with a signature sound made up of UKG cuts, grime and nostalgic heavy dub — which went some way to distract from the discomfort. Ending his set (and the sunset) with Mala and Spen G's 'Anti War Dub' was something that definitely did not go amiss and was the perfect cue to exit before unfortunately skipping out on Works of Intent.
We made a quick stop at the Chori Bandits food cart for dinner, (shoutout Max, Sam and Milo!) before a coffee pick me up at Once in a Blue Moon cafe, which stayed open around the clock. Soundtracked the whole weekend by DJs (most of whom were playing in the three main programmed tents; Sputnik, Laika and FM tent), it became ours and many others' relaxing sanctuary between high energy DJ sets.
The first DJ we heard play while waiting for our drinks to cool was Tia Cousins, whose choice of binaural beats eased us into the faux-starlit tent's abundance of soft furnishings. For the reasons of being dairy-free and not wanting to eat chips for every meal, this food and drink combo was revisited often throughout the weekend by my friend and I. It's worth mentioning however that the cafe served mainly veggie and vegan food options.
By the time we made it to FM tent (the main tent) on the first night, my insides were warmed and ready to experience the amazing set OK Williams put down. From pretty much the first minute, she had the main tent heaving to the heavenly strobe light display, both guiding us through percussive landscapes with surprise nostalgic twists and turns. Easily my favourite set of the festival, the energy in the tent was well worth the post-3pm caffeine!
Next came Overmono at midnight, taking us through the U.K. electronic duo's early catalogue before closing with their 2021 hit that has by no means lost any of its wow factor, 'So U Kno'.
Taking to the decks after was Josey Rebelle, who closed the main tent on the first night with high energy techno rhythms that kept the people glued to the dance floor until the end.
On day two, we rose to Ben Sims playing dub at the outdoor FM tent (open every day until sunset) and grabbed a coffee from the cafe, where, except for around 10 - 11 a.m. there was hardly ever a queue. This is because the festival had a small comfortably small capacity (700 people), which had been well accounted for in terms of space and amenities.
As my friend noticed, it didn't feel too intense an experience camping or festival-ing, but rather gentle amounts of both. The campsite was basically small enough to be in and amongst the festival and vice versa. Although one thing some people commented on, which I alluded to earlier, is that more food options could have been brought in. The three food stands (minus the cafe) all served some variation of chips, meat or both and often had twenty plus minute waits.
Following Ben Sims, Sofa Sofa geared things up at lunchtime, setting the tone for the afternoon with 4x4 bassline until Matt Jam Lamont wrapped things up at the outdoor tent with a UKG-heavy set at sunset, rounded off with Eliza Rose and Interplanetary Criminal's song of the summer, 'B.O.T.A (Baddest Of Them All)'. In between, Baby K filled the dance floor with soulful remixes, including a dub of The Source's 'You Got the Love', that I still cannot get over.
Having experienced their transformative festival performance power just weeks before at We Out Here, and a few times before in London, I was determined to stay awake and experience Touching Bass' takeover of the FM tent that evening (you could definitely say I'm a fan!).
In the lead up, we heard sets from Angel D'Lite (fast, electronic, fun), followed by DJ Flight (drum & bass) in the smoke and laser-beam filled Sputnik and Tia Cousins (groovy, percussive) in kente-clad Laika before heading back to Chori Bandits again for a ceremonial choripán and a hot bev.
By the time we were done, Alex Rita was spinning her signature unpredictable, yet perfectly chosen polyrhythmic, polymorphic grooves, priming the floor of the FM tent for her Touching Bass partner, Errol's B2B with Molinaro — sound scenes I can only describe as transcendental. You could definitely tell the energy exchange at the decks was as intentional as it was spontaneous and that's exactly what had everybody hooked. One particularly excited person dancing next to us kept asking every five minutes "who is this?!", and quite rightly so.
Before settling in for the remainder of the evening, we dipped out to catch some of Teki Latex's set in Sputnik and I found myself captivated by the long build ups and nostalgic bassline crossovers that seemed to perfectly counter the exciting disorientation of smoke, strobes and mirrors.
By the time we made it back to the main tent, it was midnight and Shy One was in full swing, playing funk and groove with beautiful percussion and bass to accompany. Guiding us with skill and surprise, she delivered what she described as "40 mins of horny bangers", including Lsdxoxo's 'Sick Bitch', dedicated to the queer front row, which was beautifully representative of the Field Maneuver's very non-heteronormative, mushroom apparel loving crowd. We definitely spotted at least ten items of clothing with mushrooms on! Very fun.
Just before Fauzia jumped on the decks, Shy One upped the energy with exquisite sprinklings of electro-bashment edits, with dubs of Beenie Man's 'Romie' and Shenseea's 'The Sidechick Song' absolutely still ringing in my ears.
Day three, the Sunday, started slow and we woke up to see many people packing up and getting ready to make the journey home. Those of us that were spending the day, kicked it off with some soft techno being played by Dalston Superstore's very own Milk Shandy B2B Mikki Most at the outdoor FM tent. I had another choripán for breakfast (shoot me - but before you do, please consider that the food options were minimal and cheesy), and enjoyed Reece Spooner's mid afternoon set filled with jersey club, bounce, and reworked dubs of long-unheard classics like Daniel Beddingfield's 'Gotta Get Thru This' and Fragma's 'Toca's Miracle'.
The bangers continued and played us out to the sunset while we waited for our cab to the train station and officially ended our time at Field Maneuvers.
All in all, the festival didn't personally leave me feeling as warm and fuzzy inside as others I've been to this summer, for obvious reasons. The festival's mantra of "we all have a right to party in a safe space" felt highly achieved, yet acutely missed all at once. Thankfully when it came to a lot of the acts, I'd been able to fully enjoy them elsewhere earlier in the summer when personal energies were high, and surroundings less disconcerting.
Regarding said reasons, I appreciate Field Maneuvers' commitment to course correct and can only hope with this piece that fewer cultures suffer at the hands of last minute decisions going forward. As the good sis Solange rightly says, the key is to do nothing without intention.
I'll conclude this piece by saying that it has been written to reflect the form and order of my experiences, as a blog does. If you've reached this point, then you've successfully sat with my discomfort in the midst of trying to have a good time — something I and other Black people are unfortunately familiar with and so often used to withholding for others' benefit — so thank you.