RECORDING STUDIOS TO RENT
Lite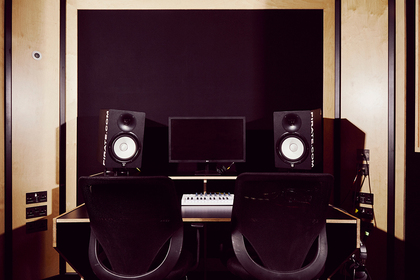 Size:
1-2 people
Best For:
Solo and duo music production
Audio Interface:
Arturia Minifuse1
Headphones:
Beyerdynamic DT770
Microphone:
SE Electronics SE2300
Monitor Speakers:
2x Yamaha HS8
Midi Keyboard:
Arturia Minilab MkII
*Some studios have different but equivalent equipment
Pro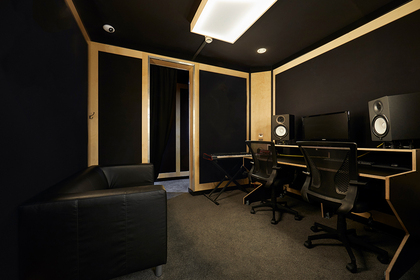 Size:
4 people
Best For:
Recording vocals and group work
Audio Interface:
Focusrite Clarett 4Pre USB
Headphones:
2x Pioneer XPRS 10
Microphone:
Audio Techinica AT2020 or SE Electronics SE2300
Monitor Speakers:
Yamaha HS8 or KRK V6S4
Midi Keyboard:
Novation Impulse 61
*Some studios have different but equivalent equipment
WHAT YOU GET
Freedom of Choice: Explore 32 professional recording studios in NYC across 3 neighborhoods
Online Booking System: Book when creativity strikes with instant access 24/7

Affordable Hourly Rates: Rent a recording studio starting from $17.50 per hour
Discounts on Longer Bookings: Pay less per hour when booking longer sessions
Pro-Grade Equipment: Interface, MIDI keyboard, monitor and headphones provided
Vocal Booths: Pro recording studios are fitted with specialized vocal booths
Comfort: Improve focus with air conditioning, customizable lighting and soundproofing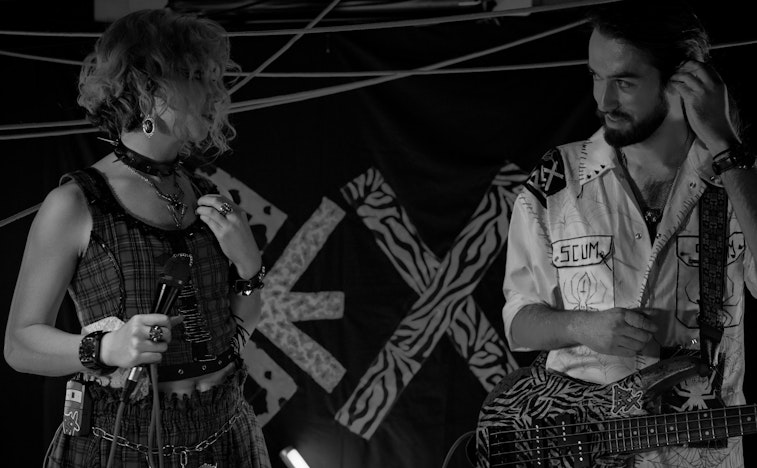 RAPPERS
Looking for a rap recording studio? Pirate NYC attracts the city's finest lyricists, emerging talents and brand new rappers who come to write, spit bars, collaborate and hang out — a proud home for the East Coast flow.
PRODUCERS
Looking for a music production studio? Join some of your favorite beatmakers at Pirate NYC. A creative hub for local and touring producers, park up and work on arrangement, mixing or mastering with equipment included.
SONGWRITERS
Looking for a songwriting space? Get into the right headspace at our private recording studios. Enjoy some peace and quiet or link up with collaborators, surrounded by a like-minded community of artists 24/7.
REVIEWS
I had a great experience at Pirate Studios in Gowanus (Brooklyn). The space was clean and ready to go as soon as my band arrived. There was a very attentive employee sitting in the lobby who asked me if I needed anything as soon as I came in. At one point we needed music stands, and he went and brought back two for me. The sound in the room was excellent and I will absolutely be back. Really excited to have another option in Gowanus and in Bushwick as well. Thx!
Great studios, I go there all the time to get time for myself to make beats in a room where lights are all out and you're enjoying the environment to make good music production. Highly recommended.
Great place to live stream, record or just practice for your next big gig..
Did a voiceover session for a film. Great room and equipment. Quiet and clean.
What is the price for a recording studio in New York?
A recording studio space at Pirate costs $17.50 per hour for Lite and $22 per hour for Pro, with discounts available for longer bookings. We strive to offer affordable rates, allowing musicians of all levels to access quality studios that fit their budget.
What is the difference between Lite and Pro recording studios?
Pirate provides two types of recording studios.
The Lite recording studio is designed for solo and duo music production sessions, providing a suitable space for smaller projects.
On the other hand, the Pro recording studio offers a larger area, ideal for bigger groups and comes equipped with a dedicated vocal booth. The Pro studio also features more advanced equipment and offers additional seating, making it an excellent choice for advanced artists, groups or anyone seeking a studio for vocal recording.
However, the Lite studio is a more cost-effective option for those with smaller-scale projects.
How many recording studios does Pirate have in New York?
Pirate operates a total of 32 recording studios spread across 3 neighborhoods in New York. We have 11 recording studios in Bushwick, 11 in Gowanus and 10 in Ridgewood, Queens.
Which is the best studio for voice recording?
For voice recording, the Pro recording studio is your best option at Pirate. Our Pro studios are equipped with dedicated vocal booths, providing the ideal setting for anyone searching for an audio recording studio to capture clean vocals.