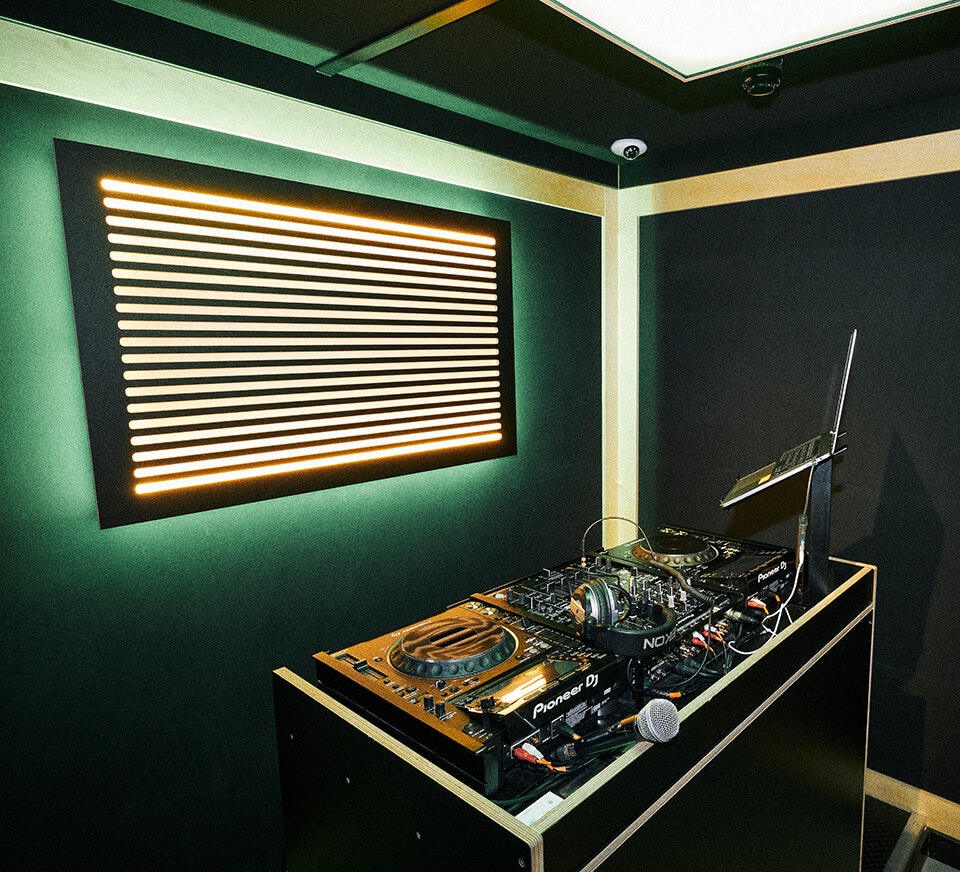 Inside your DJ studios
Club-standard equipment. Customisable lighting. Our DJ studios allow you to replicate the club experience solo or back-to-back with your friends, no matter what your skill level.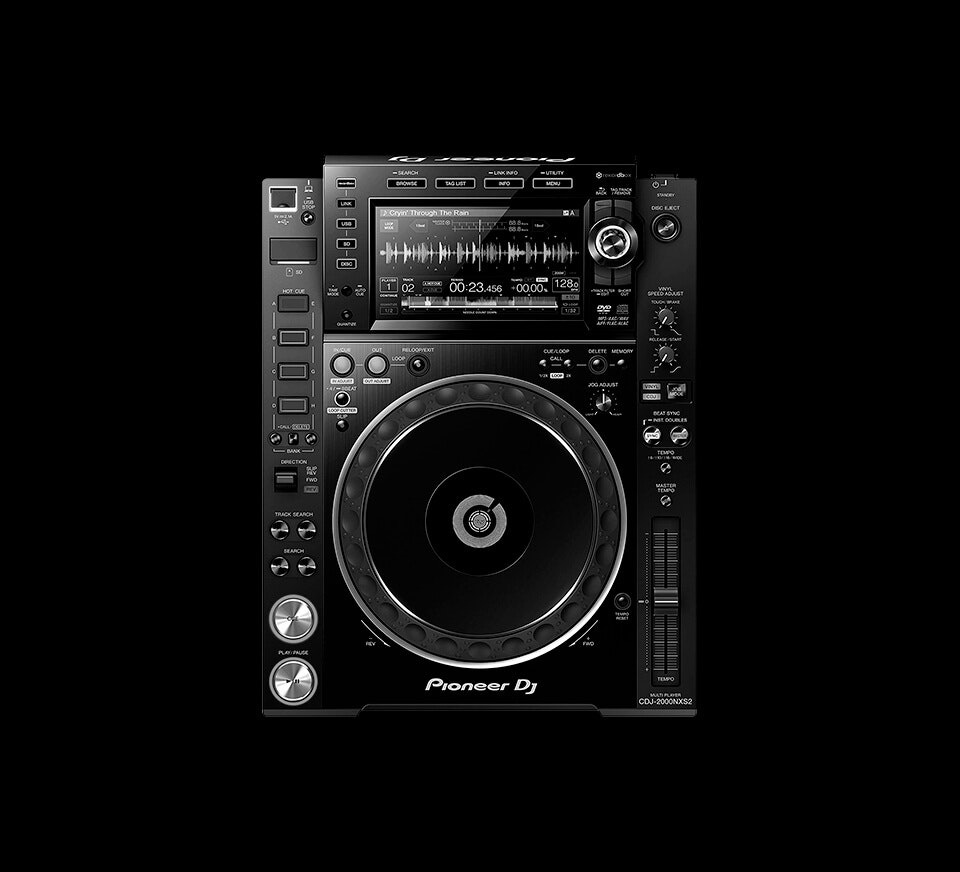 DJ Standard and DJ Pro
Our standard two-deck DJ studios are approximately 65 square feet, and our Pro three-deck DJ studios are approximately 130 square feet. Both can hold up to a maximum of five people (including the lead booker) per session.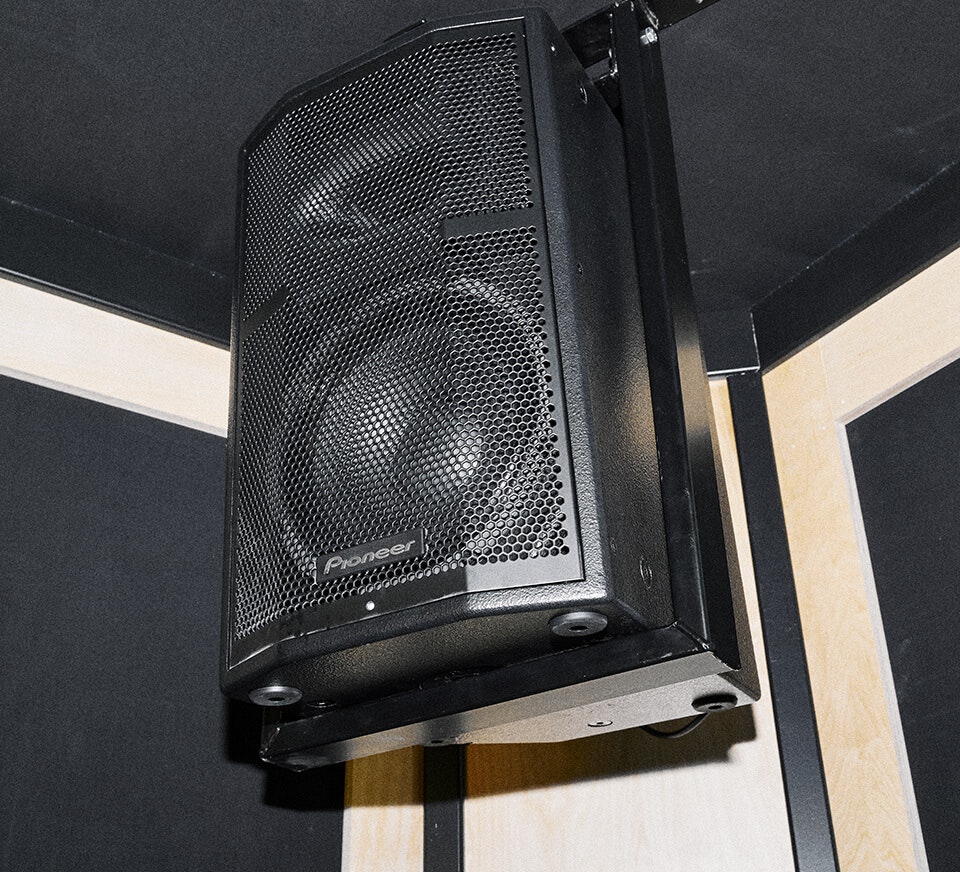 Why Pirate?
PIRATE.COM is the world's largest creative studio and artist community network with close to 50 locations across the UK, DE, US and IE. We offer DJ studio hire with industry-standard Pioneer setups at affordable, hourly rates. Come and go, 24/7 — to practice your mixing ability, prepare for a DJ gig, live stream from the virtual club, or just play your favourite tunes with your favourite people. For anyone with an interest in DJing, regardless of your ethnicity, sexuality, gender or social status — this space is yours.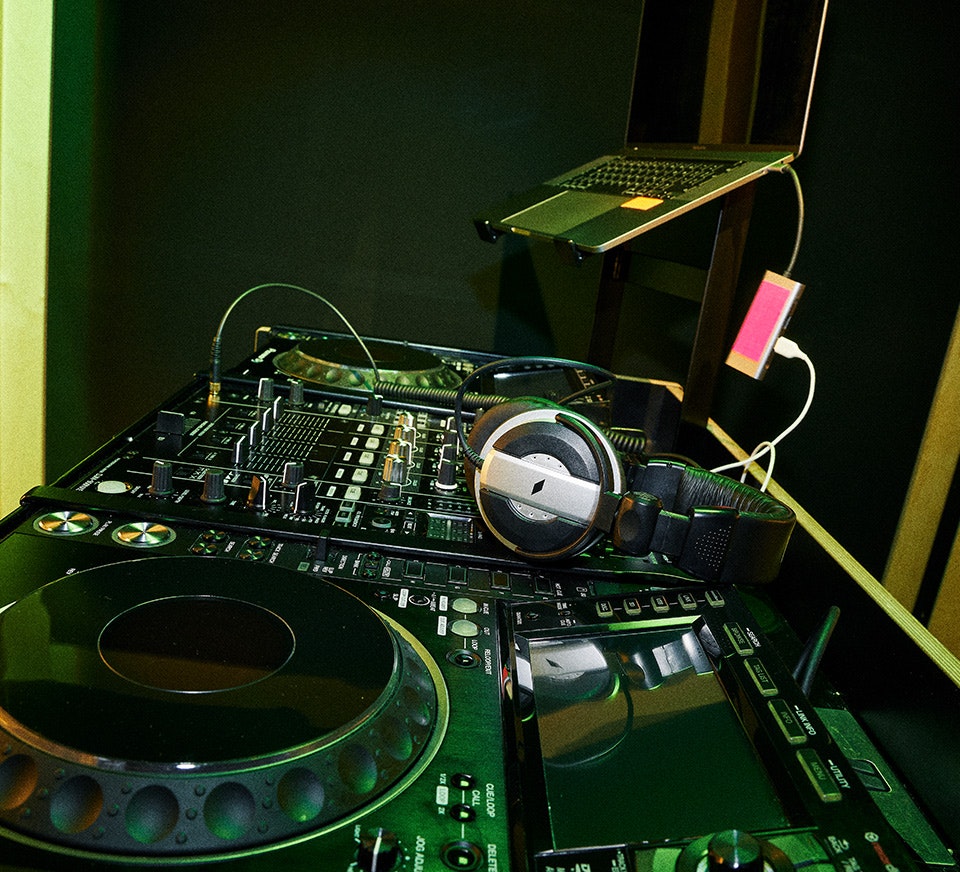 2-deck DJ Standard studio
Perfect for solo mixing sessions. Equipped with a complete two-deck Pioneer setup, plus lighting and temperature control.
Decks - 2x Pioneer CDJ-2000 NXS2
Mixer - Pioneer DJM-900 NXS2
Extras - Custom lighting and temperature control
Speakers - 2x Pioneer XPRS 10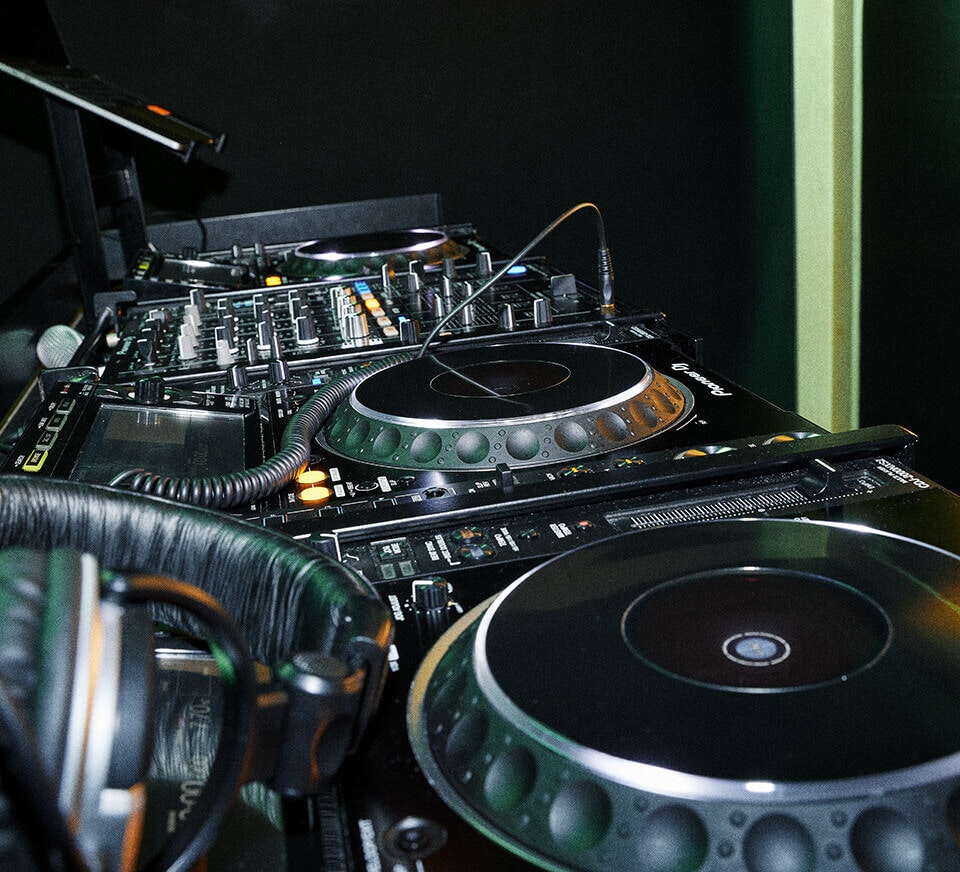 3-deck DJ Pro Studio
Perfect for back-to-back sessions and experienced DJs. Equipped with an additional third deck and a larger room ideal for small groups.
Decks - 3x Pioneer CDJ-2000 NXS2
Mixer - Pioneer DJM-900 NXS2
Speakers - 2x Pioneer XPRS 10
Larger room size
Extras - Custom lighting and temperature control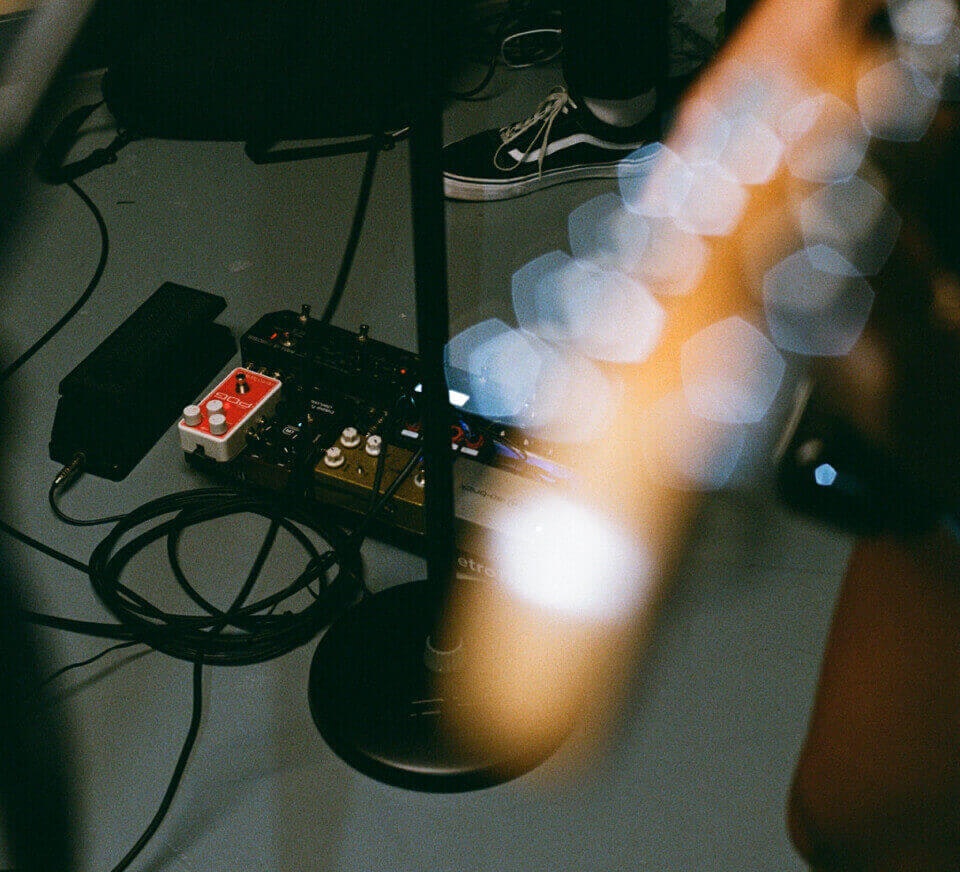 Your space to create
Whether you're a beginner or a seasoned pro, our specialist Gloucestershire studios are the perfect place to create, write, produce, practice and mix with no distractions.
In Cheltenham there are seven spaces ready for your next project:
Hone your mix on club-standard equipment in the DJ studios
Rehearsal studios to jam with your band or practice for the next gig
Simply book and pay by the hour using our easy live calendar. It's time to let your creativity flow.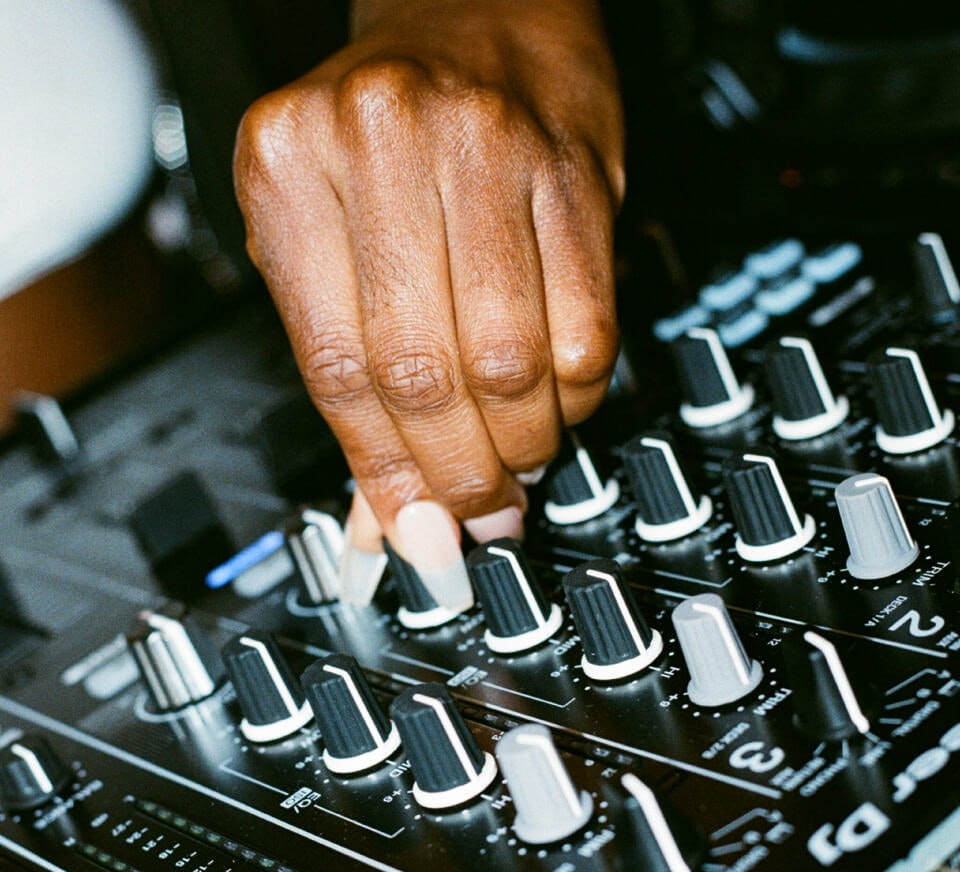 What is Pirate?
A worldwide network of DJ, production, rehearsal, podcast and dance studios, giving you round the clock access to create. Because we're open 24/7, we've made the experience entirely self-service using our unique entry code system — but if you ever need a hand, we're here. The fastest way to get support is via Live Chat.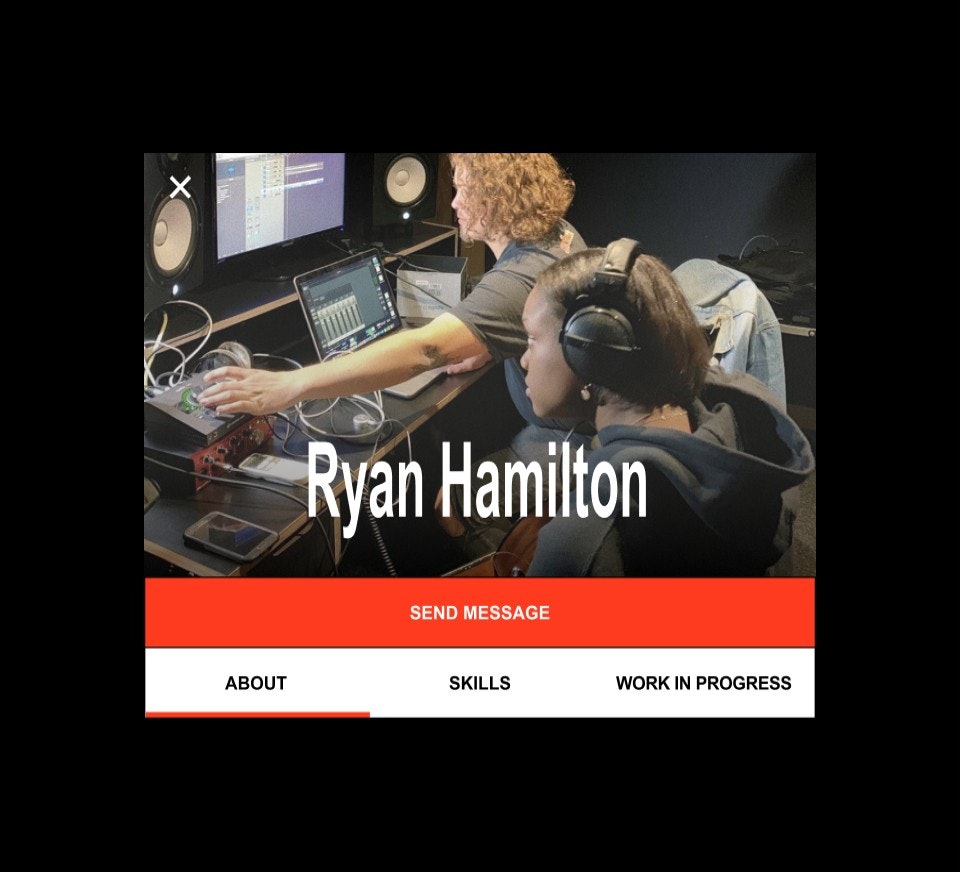 Stay creative with COMMUNITY
Set up by artists, for artists, COMMUNITY is the home for Pirate creatives worldwide.
Ask for advice & feedback on your music, put out a call for a collab, enter competitions, share the best-kept secret in your area… or simply connect with like-minded people. It's all possible here.
Collaborate: Seek out a collaborator to contribute to your next project, or offer your skills to someone in need.
Feedback room: A place for you to share your works in progress, receive advice, and provide constructive feedback.
Challenges: Your chance to show the world your talent. Win gear, studio credit, mentoring, and much more with regular artist challenges.
Industry advice: This section will help you to understand the ins and outs of the industry. Chat about processes, marketing your brand, and anything else related to the business of creativity.
Artist opportunities: Get your music featured on Pirate.com, receive exclusive offers from Pirate partners, and plenty more.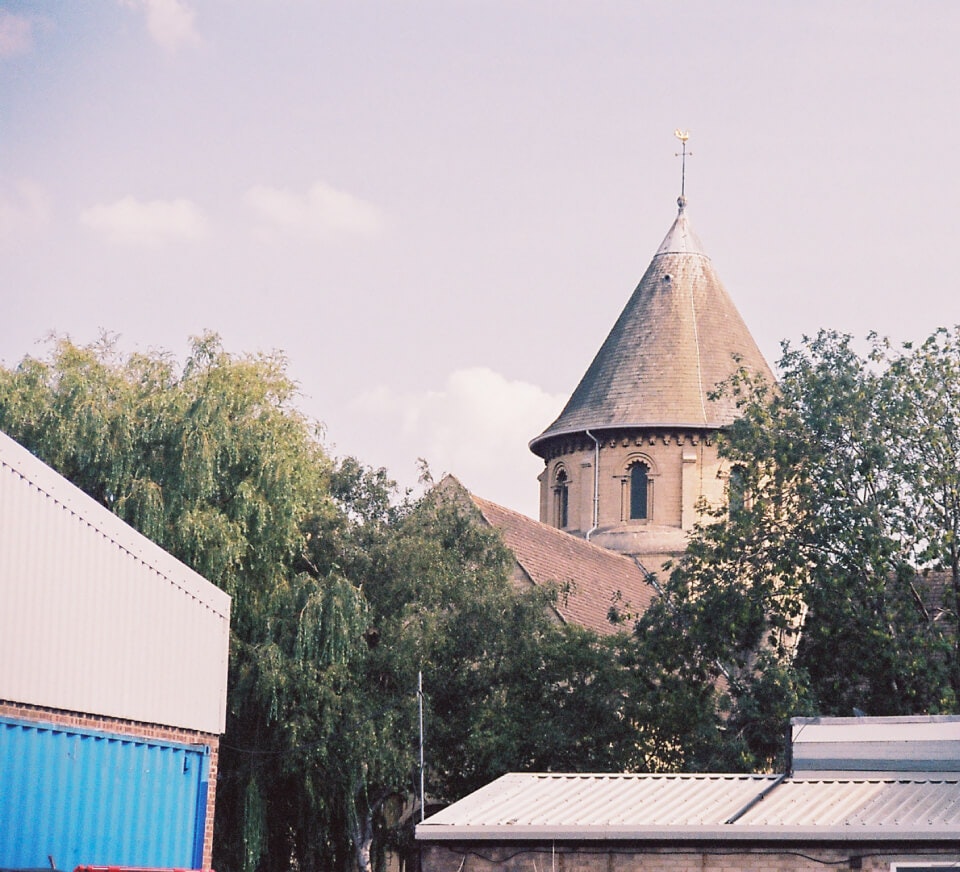 Local vibes
Cheltenham has a music pedigree like no other. Brian Jones, Gustav Holst are the biggies, while we have it on good Pirate authority that FKA Twigs was born somewhere nearby. Local band Grief Ritual is also leading the charge in rebuilding the town's former glories in punk and metal. And, aside from the horses, the must-do event on everyone's calendar is the Cheltenham Jazz Festival.
Here are a few suggestions for making the most of this side of the Cotswolds:
Visit the Wilson, the museum and art gallery and adjoining cafe, for a taste of history
Crate diggers will enjoy record stores The Independent Record Shop (specialists in 78's, punk and reggae), Vinyl Vault (prog rock and folk), and Badlands (classic rock).
Grab a brew at the DEYA taproom, when it's sunny you can sit outside the brewery and drink.
Know somewhere worth shouting about in the area? Head to COMMUNITY and spread the good word.
Decks - 2x Pioneer CDJ-2000 NXS2
Mixer - Pioneer DJM-900 NXS2
Speakers - 2x Pioneer XPRS 10
Extras - Custom lighting and temperature control
what3words location: ///hike.lied.towns
The studio address is Unit 3, Neptune Business Park, Cheltenham, GL51 9FB.
Driving? We have six car parking spaces at the front of the building.
If you're coming by public transport, local buses stop nearby on Tewkesbury Road. The closest station is Cheltenham Spa.

Have a question or need support? Check out our FAQs, use the Live Chat, or call us.
From the Community
◄
"Pirate studios are great for flexibility of the pricing, times and duration of the session and the variety of choice when it comes to the space you require. I have been using them for solo and band practice sessions and never experienced any problems. The equipment though could have a bit more attention in terms of maintenance - I am refering to drum equipment first of all - but the support is very responsive and fast in solving any issues if there are any. Will definitely recommend them and continue using their service myself."
◄